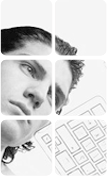 TechSoft, Inc. is an established information technology firm that is committed to provide quality IT and Web Services, foster onsite and offshore project development to its clients in a cost-effective manner.

Since 2012, we have been providing our services to a broad range of clients varying from government agencies, fortune 500 corporations, and to small businesses all over the U.S.

At TechSoft, Inc. our model is simple - we partner with our clients to provide the right solution for their IT needs. From turnkey solutions to strategic resourcing, our value is based on our commitment to align our expertise and technologies to enable success.
Our ability to evolve and be flexible to a dynamic business world is precisely why we've been successful for so long. We measure our success by reputation. Our reputation is not only our growth but also our client's satisfaction and we are constantly providing the best solutions for our client's IT needs. Thus, we have good client retention and we are proud to say that our first client is still a client today, and has been with us, year after year. Our mission is to help our clients manage, change and transform their businesses through high-quality, cost-effective business IT solutions.