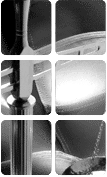 TechCMS is a complete Case Management System for District, County, JP and Municipal Courts. TechSoft provides a cost effective and easy to use solution for Texas Trial Courts.

TechCMS complete Case Management Solution Includes:

Case Initiation
Auto Scheduling
Events Management
Complete Accounting
Multi Case Payment Processing
Automated Collection Processing
Security / Audit Trail
Disposition Sentencing / Judgments
Over 100 custom reports
On-site Installation
Training for you or your staff
Toll Free Technical Support
Meets National and Texas Judicial Committee Standards
Electronic Reporting Features
Automated Document Production
TechCMS meets National Consortium for Court Functional Standards and as well as Texas Judicial Committee on Information Technology Standards and Guidelines. We provide on-site installation, "hands on" training at your location, and toll-free technical support.